4e trimestre 2021
| Date | Danses |
| --- | --- |
| Mardi 19 octobre | |
| Mardi 26 octobre | |
| Mardi 2 novembre | |
| Mardi 9 novembre | |
| Mardi 16 novembre | |
| Mardi 23 novembre | |
| Mardi 7 décembre | |
| Mardi 14 décembre |   |
Scots Bonnet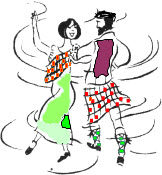 Le groupe de danse écossaise de Saint Quay Perros, Scots Bonnet, a été créé en 1990 par Annie et Malcolm MacGregor.
Déclaré en Association Loi de 1901, le groupe Scots Bonnet est présidé depuis 2019 par Dominique Robard.
La danse écossaise est structurée en formation (appelée set) de 2 à 4 couples voire plus, alignés, en carré, en triangle, etc. selon les chorégraphies.
Elle se pratique sur des musiques au rythme rapide (Reel, Jig) ou lent (Strathspey). Le Strathspey est un rythme unique, typique de la danse écossaise.
Il existe environ 18.000 danses datant du 17e siècle à nos jours, la créativité étant permanente. Le recueil le plus ancien (qui a survécu) a été écrit par John Bowie et publié à Perth en 1789.
Pratiquer la danse écossaise, c'est conserver une très bonne condition physique tout en exerçant sa mémoire : Élégance, rigueur et amusement s'y mélangent pour un vrai plaisir partagé.
On danse à St Quay mais également à Paris, Lyon, Montpellier, … Londres, Edimbourg, Glasgow, … Saint-Andrews et toutes les villes d'Ecosse, … Berlin, Karlsruhe, Frankfort, Cologne, Fribourg, … Bruxelles, … La Haye, Eindhoven, … Turin, Bologne, … Madrid, Lisbonne, … Prague, … Moscou, St Petersbourg, … Tokyo, etc.
Vous partez à l'étranger, en vacances ou en mission ? Il y a un groupe tout proche où vous serez accueilli avec plaisir pour danser City of Belfast, Flowers of Edinburgh, Dunsinane, …
A Saint Quay Perros, c'est chaque mardi de 20h00 à 22h30/23h00 en Salle Yves Guégan de Saint Quay Perros.
Pour en savoir plus, visitez notre site ou écrivez-nous en utilisant le formulaire de contact.
Pour connaître les stages et bals organisés en Europe, une seule adresse : http://www.celtic-circle.de/events.html